Quick Shots:
Great Ride
Great Finish
Full Custom, individually made for you
Scandium and carbon
Check it out before you buy a Euro frame
Since the beginning of modern bicycle racing, it has been common for riders in the US to look to Europe for their racing frames. Names like Bianchi harken back to the early part of the century, and their bikes--along with others like Pinarello, Colnago, Cinelli, and Coppi--still dominate the professional peloton in Europe and (chances are) the paceline at your local century or club ride. European frames have alternately stood for tradition (think back to the 1980s, when a Colnago or DeRosa was the "right" bike to ride) and innovation, as in the plethora of non-standard frame designs and materials now being churned out by shops in Italy, Belgium, France, and elsewhere. Euro frames now come in steel, aluminum, titatium, carbon fiber, and various combinations of these materials, and in a wide range of styles.
So with such a range of choices available, why look elsewhere? In the case of Australia's Peter Teschner, the answer is: Because you'll be passing by a fantastic opportunity if you don't.
Peter Teschner

If you live outside Australia, you may not have heard about Peter Teschner (Teschner is a sponsor of Campy Only), but Down Under he is a formidable presence on the local cycling scene. Although frames with his name on them have only been around for a decade or so, Teschner's bikes have won numerous national championships and have been ridden by many Aussie riders who have competed on the world stage.
Teschner is well known in Australia, but his frames have done well in international competition as well. From 200 to 2003, all of the ""Team Issue" Fuji frames used by the Mercury Pro Road Team were built by Teschner. If you watched US racing during those years, you saw Teschner frames crossing the finish line in first place many times . . .
Domestically, Teschner has been closely involved with the Australian Institute of Sport for both their Track and for the Women's Road Program, building the women's TT frames for the past 5 years. This involvement has seen Teschner secure the Australian National Women's TT Championship Title for the last 5 years in a row. Peter's frames have gained the first 5 placings for 4 years and the top 3 the 5th year. In 2003, Teschner also picked up the 1st and 2nd in the Men's National TT Championship
Coffs Harbour
Peter Teschner's home base is the small city of Coffs Harbour, up the coast from Sydney, where he lives in a home overlooking the Pacific Ocean. His production facility is a small shop in Coffs Harbour where he and a small crew produce a relatively small number of frames for domestic and international customers.
Teschner's history in framebuilding goes back to the early 90's, when he was employed as a master fabricator, producing a variety of industrial parts and prototypes. A local rider who was building a frameset for himself came into the shop one day, looking for someone who could join the tubes he had prepared. Teschner and his brother took on the job and made their first frame.
That experience intrigued Peter, and he decided to learn as much as he could about frame design. No a racer himself, he decided to delve into the subject, and for several years read every road test and tech report he could get his hands on. Once he felt he had learned enough, he began building prototypes and, eventually, his first commercial frames, beginning in Titanium and later switching the aluminum and Scandium from US tubing maker Easton.
Easton and Teschner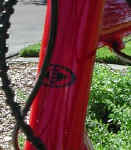 Teschner today is the Australian distributor for Easton tubing, importing and distributing it to other framebuilders as well. The link between the two companies is stgrong--Easton's customer service rep in the US rides a Teschner frame, and Teschner's frames are supplied with Easton forks and (if specified) carbon stays. Even the head tube on Teschner's frames bears the Easton "E" trademark (in part, Teschner admits, because he hasn't yet devised his own "T" logo).
Custom Frames Only
Teschner's output for international customers consists entirely of custom frames, built to order specifically for each rider. That's unlike similar frames from most European builders, which are built in stock dimensions.
Teschner will build a frame pretty much any way a customer requests, although he will inject his experience and suggest changes if a rider asks for geometry that just won't work. For our frame, we simply provided dimensions to help Teschner size it correctly, told him about the type of riding we do (mostly long-distance rides where handling and comfort are equally important), and let him set up the geometry. We also requested a bright red, white, and blue color scheme that we saw on his web site.
The frames are taken elsewhere for painting--in our case, a four-color scheme (it also includes black airbrushing) that's a step above the paint he offers on some of his domestic frames. Teschner points out that his frames don't use decals for the "Teschner" names, which are instead masked and airbrushed on. It's a nice touch, but it's fair to note that many world-class painters (including Campy Only sponsor Joe Bell, who paints all of Richard Sach's frames, as well as those of other top custom builders) commonly use decals.
The entire process, from ordering to arrival at Campy Only headquarters in California, took less than a month. Thanks to internet package tracking, we were able to watch the frame's progress from Australia, which took less than a week (including a brief stay in US Customs, where they verified that it was not international contraband . . . )
Fit and Finish
Teschner prides himself on producing finely finished frames, and our frame showed his devotion to small details. The frame arrived perfectly aligned, with the bottom bracket faced and ready for bottom bracket installation. The rear dropouts are masked, so the paint doesn't get chipped when the rear wheel is installed.
Paint work on the Teschner is easily a notch or two above anything we've seen on a Pinarello or Colnago. The masking and airbrush work on the Euro Elite is nicely done, and the overall paint finish is quite nice.
The Campy Only Teschner
Here is how we built up our Teschner frame:
Derailleurs: Centaur triple front and rear

Crankset: Centaur triple (175mm, 52/42/30) Since changed out to an FSA Compact

Pedals: Record Pro-Fit I

Bottom Bracket: AC-H

Brakes: Chorus (dual pivot front, single pivot rear)

Ergo levers: Centaur

Headset: Record hiddenset 1 1/8 inch

Bar/Stem: ITM Since changed out to FSA stem/FSA carbon bars

Seatpost: Chorus Titanium

Seat: Sella Italia

Wheels: Various--mostly Campagnolo Scirocco
Built up as shown, our Teschner weighed in at about 19.5 pounds--within a few ounces of our Merlin, even with the heavier Centaur crankset and bottom bracket. Changing out the cranks and bottom bracket brought the weight down to about 18 pounds.
The Road Test
Simply put, we have been amazed at the ride and handling of the Teschner. We have put hundreds of miles on this machine, including two double centuries and a two-day ride trhought the California Sierras, and it has more than lived up to Teschner's reputation.

Riding comfort is as good as any frame we have ever been on. Conventional wisdom would hold that frame geometry is the most important factor in deciding how comfortably a frame will ride (for more thoughts on this, click here), but the Easton stays on the Euro Elite must be doing something. We once rode the bike over the cobblestone streets in Old Sacramento, and almost had to look down to make sure we were on the cobbles--the frame soaks up road noise that well. Up front, the Easton fork is doing its work as well--this is a bike you can ride all day long.
Handling is on par with the ride. The Teschner carves winding roads easily, and is capable of rock-solid, high-speed descending. On the trip in the Sierras, we had the bike up to 52mph (84kph) on a long descent and were rewarded with an absolutely steady ride.
The frame's comfort is all the more amazing when you consider its formidable bottom bracket stiffness. Stomp on the pedals, and the frame launches itself--all those specially shaped and formed tubes are doing their work very well, indeed.
In summary, this is a frame that will excel at any discipline. We suggest you consider a custom Teschner before plopping down the same cash for a non-custom Euro frame.
Nit Picking
What would we change? Just a couple of minor items:
Teschner puts the derailleur cable stops/adjusters on the down tube, which leaves the cable housings to rub on the head tube; we would put the stops on the head tube instead.

Our frame did not include a pump peg; we would put one on.