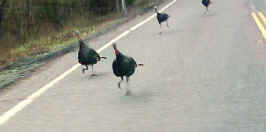 A New Year's Day ride in the hills near Lake Berryessa by your Campy Only webmaster included this unusual incident: On our return from the turnaround point, we saw a flock of about 20 or so wild turkeys crossing the road ahead of us. Since we had our Ride Cam with us, we slowed down to snap a photo of the flock (see the first photo below).

As we did, four of the turkeys peeled off and began trotting after us! They were running along (not flying), gobbling, and holding a speed of about 10-12mph. The birds kept following--not going faster, not flying--until we picked up our speed a bit, at which point they eventually fell back. In all, the four birds followed us for about a half mile or more. Definitely one for the books, and we're glad to have the photos to prove it. (Update 7-29-03--We came across a group of turkeys in a parking lot in Rancho Cordova, about 70 miles from Lake Berryessa. Click here for video)

Were they chasing to protect the flock, or did they think we were just a big ol' turkey? You decide . . .
| | | |
| --- | --- | --- |
| The flock--about 20 or so turkeys in all. | The chase begins! | The birds keep coming . . . |
| . . . and coming . . . | Click on any photo for a larger version. | . . . and coming! |
Wait a minute . . . maybe these birds listen to National Public Radio! Back in October 2000, a letter I wrote to NPR's "All Things Considered" was read on the air--in it, I advocated hunting for turkeys astride one's bicycle! Click here to listen to the "Letters" segment of the October 26, 2000, edition of NPR's ATC--my letter is about a minute into the segment.
Your Turkey Experiences
Diane wrote about her turkey experience in the same general vicinity:
Dear Turkey bait,

Yes, I've had this happen on Timm Rd, just before it runs into Peaceful Glen Road. I found being chased by two apparently very interested tom turkeys to be an embarrassing experience; when I yelled at them to knock it off, they stopped and appeared to be offended. (Although it is kind of difficult to know exactly when you've offended a turkey.) Anyway, they looked at each other knowingly, as if to say, "Don't worry Bob, we'll get the next one".

My lab partner has a whole different take on the subject; she suggests that they are like dolphins who race passing ships. Land dolphins, if you will....
Reader Pat Kennedy of Nunda, NY, frequently searches for turkeys while riding:
I carry my shotgun with a sling strapped over my shoulder. If you stay on the logging roads you don't get snagged but if you were to take it on some trails you would get a little caught on some trees. Where I live you don't have to worry about anyone stealing your rig. So all you have to do is leave it where you can find it. Happy trails.....