Amelia Campagnolo, the first child of Valentino Campagnolo and his wife, is born. (Note: The official biography of Tullio Campagnolo does not list his mother's name.)
Tullio Campagnolo is born on August 26, 1901, in a house between Ospitaletto and Anconetta in the eastern suburbs of Vicenza, Italy.
Tullio Campagnolo begins his amateur racing career that lasts until 1930.


Images below!

On November 4th, 1924, with snow covering the roads of the Italian Dolomite mountains, Tullio was riding over the Croce D'Aune Pass in the Gran Premio della Vittoria race and needed to remove his rear wheel to change gears. Because the large wingnuts that held his wheel on had frozen and his hands were too cold to budge them, he was unable to remove his wheel to change gears, and lost his chance at victory that day.

As he struggled to free his wheel, he muttered five words to himself that changed the history of cycling:

"Bisogno cambiá qualcossa de drio!"
February 8th, the quick release hub is patented, the first of more than 135 patents.
After fabricating parts in the backroom of his father's hardware store, Tullio starts Campagnolo, S.p.A with the production of the quick release hub.


Images below!

Tullio hires his first fulltime employee, Enrico Piccolo.

The sliding hub, dual rod operated, back pedal derailleur is patented on May 4th and introduced in August. The pieces of the derailleur are all handmade requiring a massive investment of time and labor.


Images below!

The export of parts begins.


Images below!
The Italian film, "The Bicycle Thief" ("Ladri di Biciclette") is released. Among the many bikes in the film are several Cambio Corsa- equipped racers (see the images below)


Images below!

Campagnolo develops a dual-cable version of the Gran Sport derailleur and introduces it at the Milan trade show in October of that year. Unlike the Gran Sport derailleur introduced next year, this model uses one cable to move the derailleur to larger cogs, and other to pull it back onto the smaller cogs. According to cycling historian Ken Denny, only ten of these were produced. (Source: Frank Berto - "The Dancing Chain")
See photos below


Images below!

One of the most important years for Campagnolo. This year, the Gran Sport rear derailleur with extended (long-point) outer jockey cage derailleur is introduced at the October, Milan show. Tullio Campagnolo, in demonstrating it's operation, refers to this gear as the "Nuovo" Gran Sport (implying "new and improved" over the twin-cable version). The Gran Sport is the first modern derailleur to be used widely in the pro peloton, and it set the stage for Campy's derailleurs through the end of C-Record and the beginning of index shifting. Heavy and somewhat roughly finished (based on the example in the Campy Only museum), it brought easy, no-fuss shifting to the masses. See photos below (Sources: BellaBici Video, RAI (Italy)(Production), Highlights of the 1950 Milan Trade Show., Collection, Ken Denny, 1950 Milan Trade Show Cartolina (handout))

Campagnolo employs 123 workers.


Images below!

After the spring classic season and the success of Fausto Coppi in the Paris-Roubaix, Squadra Bianchi, perhaps the most powerful team of the 50's, is equipped with the long-point Gran Sport derailleur system for the Giro d'Italia and subsequent races. Fausto Coppi vows that the Paris- Roubaix gear was a disaster, even after his commanding victory. In October, an updated version of the Gran Sport rear derailleur is introduced, with the extended "horn point" pulley cage deleted, and cable fastening device modified from "finger clamp" to "set-screw" design. See Photos below. (Sources: Lo Sport Illustrato, 1951. Archive, David Carpenter, Veterans Cycle Club, Bianchi Marque Enthusiast).

Gran Sport sliding rod, cable operated front derailleur, and bar end shifters are introduced.

Also this year: Campagnolo introduces the last advance in its famed rod-shifting derailleurs. This rare 1951 model featured an intricate system of levers, cams, and a ratcheting quick release, but it was outshone by the Gran Sport and quickly dropped out of sight. See photo below


Images below!
A slightly updated version of the Gran Sport derailleur is introduced. the following describes the '51 and '52 versions. Scroll down for photos of the 1952 derailleur.
Campy introduced the 1st Generation Gran Sport in 1951. Chrome 6 mm "Campagnolo" bolts were used in 1951 and 1952. Between 1951 and '52 Campy made several improvements, including the modern-style cable clamp bolt, as seen on this one. The long horned cage is believed to have been used in '52 only. They made 2 versions of the long cage--see foto for contrast. Among various other changes, the back plate of the parallelogram is different from the 1951 model and similar to modern 1953 to 1960s derailleurs.. Also the pulley wheels are a larger diameter than in 1951.

*RARE Long-Horned Cage is nicely machined, NOT STAMPED. See foto for contrast with stamped cage!

*DRILLED Pulley Bolts are probably NOT Original. I guess they are 16-Hole drilled replacements. The drilling is well-done, though. Pulley wheels were on this derailleur when found in Italy.


Images below!

In August the definitive Gran Sport rear derailleur is introduced with minor changes from the 1951 model. The first Campagnolo hubs (FB-style steel barrels with alloy flanges) are introduced, and in December the Sport rear derailleur with single pulley and lever operated Sport front derailleur are introduced.

Catalog #12 is printed for the year-end trade shows. Included are Corsa, Paris-Roubaix, Gran Sport and Sport rear derailleurs, Gran Sport and Sport front derailleurs, bar end and downtube shifters, brake cable clips, hubs (normal and large flange three piece), pump heads and holder, "H" tool, dishing tool, freewheel remover and cone wrenches.


Images below!

Catalog #13 is printed for the year-end trade shows. Included are everything in #12 plus "T" wrench and derailleur hanger alignment tool.
The Gran Sport pedal (steel quill with strap loop) is introduced. In July a seat post is introduced, followed in August by the Gran Sport rear derailleur with the lower body and outer cage revised and a shallow spring cage cover. The Record parallelogram front derailleur is introduced.


Images below!

Catalog #14 is printed for the year-end trade shows. Included are the Record Group comprising Record cotterless crankset (151mm bolt circle) and Gran Sport bottom bracket, normal or large flange Record alloy one piece hubs, seat post, Gran Sport headset, Record front derailleur, Gran Sport rear derailleur, Gran Sport pedals. Also in the catalog are the Gran Sport Group (includes Record front derailleur), Sport Group, Gran Sport cottered bottom bracket (note that there is no accompanying cottered crankset), Gran Sport track pedal with and without teeth, and wood-boxed tool set.
Strada triple and Cyclocross cranksets are introduced. In July the revised Gran Sport rear derailleur is introduced with thick spring cage cover to improve shifting on six-speed freewheels. Campagnolo opens a factory in Bolonga to manufacture superlight magnesium wheels for autos and motorcycles, as well as lightweight military and aerospace parts. Campagnolo becomes the first company in the world to use low-pressure magnesium casting, revolutionizing the use of this material.
In October the Record rear derailleur (chromed bronze) is introduced. This has a revised cage shape with the pivot behind and closer to the jockey pulley and center punched rivets.


Images below!
The Nuovo Record rear derailleur is introduced.
Catalog #15 is printed for the year-end trade shows. New for the Record Group is the Nuovo Record alloy rear derailleur. Also introduced are the Nuovo Record bottom bracket, Nuovo Tipo normal and large flange hubs, Record pedals (name change), Record headset, and repair stand. The Record crankset is changed to a 144mm bolt circle (41 tooth minimum) from the previous 151mm bolt circle (44 tooth minimum).

Introduction of Record brakeset.
Catalog #16 is printed for the year-end trade shows. As Catalog #15, but with the addition of the Record sidepull brakeset (making a complete group for the frist time), and elimination of Gran Sport track pedals with teeth. Crank with triple chainring and cyclocross flanged crank are introduced.
Catalog #16 Supplement is printed in November for the year-end trade shows. The Superlight pedals with black anodized aluminum cages and Superlight Record seat post, no fluting (originally with engraved graduated scale) are introduced in November. The toothed washer, "rondella dentata", is introduced for the Record sidepull brakes, along with the steel Gran Turismo derailleur and Elefante control lever, and the steel three-pin Sport cotterless crankset.


Images below!

Catalog #17 is printed for the Paris and Milan year-end trade shows. The last year for the Record rear derailleur. The Cavaturaccioli (corkscrew) is introduced. The Super Record Road and Track groups are introduced with a titanium axle for the bottom bracket, titanium spindles for the hubs (dropped soon after introduction) and pedals, Super Record rear derailleur with black anodizing and titanium bolts. Super Record chainrings without inner support ring, alloy Super Record headset, and Super Record brake levers with holes are introduced. The Rally rear derailleur is introduced.

View Catalog 17 (PDF Files. Warning to those with slow Internet connections: some files exceed 3 megs!)


Images below!

Catalog #17a is printed for the year-end trade shows. As per Catalog #17. Campagnolo is awarded the "Design and Application Award" by the International Magnesium Association.


Images below!
1977 marked the last year of production of the "no lip" front derailleur. The US Consumer Products Safety Commission thought that the flat front was a hazard, and later years feature a lip at the front. The bottom bracket was also widened slightly to help the cranks clear the now wider derailleur cage. See the 1978 entry right next to this one for more CPSC changes


Images below!

CPSC mandates changes to NR/SR. Included are a front derailleur lip, 2.5 mm increase in spacing between crank spider and arm (to clear the front derailleur lip) with corresponding increase in bottom bracket axle length, a curved quick release lever and "ball end" added to quick release conical adjuster, dome shape added to quick release cam lever on brake calipers, and plastic safety piece on rear derailleur screws. Tullio Campagnolo is bestowed with the Stella D'Oro (Golden Star) award by the C.O.N.I. (Italian National Olympic organization) for his contributions to sport.


Images below!

Catalog #17a Supplement is printed for the year-end trade shows. Introduced are a revised Super Record derailleur with script logo and different cage geometry, single bolt Super Record seat post, Record front derailleur with four holes (later to be three) in cage, straight-band clamp (later to revert to traditional pointed-band clamp), short Nuovo Record dropouts without eyelets, chain-holder with accompanying control lever and trigger, and fixing shoe plate for pedals. Tullio Campagnolo is appointed to the Cavaliere del Lavoro (Italy's highest honor to a businessman) by the President of the Italian republic.


Images below!
The 1980s saw the production of "BMX" equipment for this offshoot of the off-road cycling market.


Images below!

November 20--Campagnolo hosts a reception at Sr. Campagnolo's villa as part of a celebration of the newly opened Vicenza factory.

Development starts on the Campagnolo freewheel, a combination of aluminum, titanium, and steel with a three-pawl rachet system. It was originally a floating, two-pawl design, then a floating three-pawl, and finally a fixed three-pawl design for production. (It's presumed the floating-pawl design was too difficult to service).


Images below!

Olympic Catalog is printed for the year-end trade shows. The Campagnolo freewheel is introduced along with the Super Record front derailleur with black anodized arms, three holes and brazed-on fitting option, the HiLo Record rear hub (reputed to be originally custom-made for the West German Olympic Team in 1972), toe clips in both steel and alloy versions, the second version of the titanium axle bottom bracked (solid instead of hollow, with nuts rather than bolts), the 980 rear derailleur (project started in September 1980?), and BMX crankset (gold, blue, or silver anodizing), pedal (gold, blue or black), and large or small hubs (gold, blue or silver). Also, a series of promotional items are offered; corkscrew, nutcracker, a limited edition belt buckle set, an Olympic lapel pin set, a folding disposable razor, a travel bag, and various Campagnolo window and frame stickers.
Tullio Campagnolo passes away on February 3, at the age of 81. At his funeral, Eddy Mercxk delivers a stirring eulogy.

Look below for specs on Super Record, Nuovo Record, and Gran Sport gruppos

During the 1980s, a Swiss company, ICS, reworked Campagnolo's Super Record derailleur, calling the result the "3D" model. Click for photos


Images below!

Catalog #18 is printed for the year-end trade shows. As per Olympic Catalog, but the nutted Super Record titanium axle bottom bracket is dropped. A seven-speed standard spaced freewheel is introduced (requires 130mm rear dropout spacing).

Prototypes of the new Delta brakes are produced and briefly shown to the public.

Your Campy Only webmaster buys his first all-Campagnolo bicycle, a Cannondale equipped with a mixed Super Record/Nuovo Record gruppo.


Images below!

Catalog #18bis is released. Included are:

Record road and track groups, C-Record road gruppo, Victory "corsa" and "leisure" gruppos, Triomphe corsa and leisure, and 980 and 990 parts. Also introduced in this catalog are Delta brakes, shown here as the only brakeset for C-Record. This first edition of Delta was recalled, and subbed with Cobalto. Read more about Delta brakes

Super Record crankarms without milled flutes (first produced with an engraved logo and later, a laser-etched version) derived from the 1983 Anniversary group. A seven-speed "compact" spaced alloy freewheel is introduced.
The last year for production of Super Record.


Images below!
Click here for a complete listing of 1987 prices, with a comparison to 2003 prices for top-of-the-line Campy. Click here to see Campagnolo's 1987 catalog set
Chorus is introduced this year. Campagnolo's official publication exults, "The Chorus equipment performs as if it were on a stage singing in unison." Whether the name was chosen to reflect this image, or whether the metaphor was called to mind by the name is not known to us . . .


Images below!

Campagnolo's offerings this year included several MTB lines, including rims. Click below for PDF versions of these catalogs

Euclid (1.9 meg)

Centaur (1.7 meg)

Rims (280k)
Campagnolo's catalog for 1991 includes a variety of product lines for road and off-road, including Record, Croce D'Aune, Chorus, Athena, and Xenon for the road; Euclid, Themis, Olympus, and Centaur for off-road, and tandem and track gruppos. Click here to see the 1991 catalog

Average prices for Campagnolo equipped bikes (from Bicycling Magazine, Oct 1991)

ROAD
Record: $2,200-7,000
Croce d'Aune: $2,025-3,100
Chorus: $1,385-3,100
Athena: $1,100-2,900
Xenon: $960-1,485

OR
Euclid: $2,000-4,000
Centaur: $1,950-3,900
Olympus: $1,759-2,307

Highest price for a ShimaNO equipped road bike: $3,850 for bicycle with Dura-Ace gruppo


Images below!
Campagnolo prints The Giant and the File, a biography of Tullio Campagnolo. The book is never made available for sale to the public, and few copies are in the hands of collectors.
Campy Only debuts on the WWW, bringing our unique blend of news, information, rumors, and fun to a worldwide audience.
9-speed shifting is introduced.
10-speed shifting is introduced.
Campy Only hosts a party celebrating the 100th anniversary of Tullio Campagnolo's birthday on August 26, 2001. Click here for memories from this event
Campagnolo's "Daytona" gruppo becomes "Centaur" when it is discovered that another company had previously trademarked the Daytona name. (The Centaur name was originally used for an off-road gruppo)

Road testing of a prototype electronic shifting system takes place.
Road testing of a prototype electronic shifting system continues.
Road testing of a prototype electronic shifting system continues.
Road testing of a prototype electronic shifting system continues.
Road testing of a prototype electronic shifting system continues.
Road testing of a prototype electronic shifting system continues.


Images below!
A new book, "75 Years of Passion," celebrates the first 75 years of Campagnolo history. (Spoiler Altert: Campy Only is featured prominently on page 136)
Also this year, Campagnolo releases an 11-speed gruppo, providing more choices on the cassette alone than an entire bicycle from the Gold Age would have had using all the cogs and both rings.
Road testing of a prototype electronic shifting system continues.


A young Tullio Campagnolo


Tullio Campagnolo climbing the Croce D'Aune Pass on November 4, 1924


What day did Tullio's famous epiphany occur? According to the official biography, it was November 4, 1924. Shown above, scans from "The Giant and the File"


Photo above: The Tullio Campagnolo memorial at the Croce D'Aune pass. Photo by Allan Nelson


The Cambio Corsa derailleur



Click here to see more photos of a Cambio Corsa- equipped bicycle



These jigs were made to facilitate the building of frames for the Cambio Corsa by keeping the toothed dropouts aligned.
Below: Scan of Campagnolo's catalog showing these very rare items.


Thanks to reader Steven Maasland for these photos.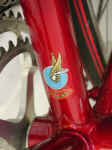 Click here for a really big version of this photo


Dual-cable Gran Sport, 1948




Several images from the 1948 Italian film, "The Bicycle Thief" The first shows an interior shot--over the young boy's bed is a poster for the Giro d'Italia. Second shot is of several period bikes. Third is of a small peloton that flashes across the screen toward the end of the film--look closely, and you can see several cambio corsa-equipped bikes.


Gran Sport Front View
Owner: Ken Denny



Gran Sport Rear View


1951 Paris Roubaix derailleur



A classic poster from the Gran Sport era








Photos and description courtesy Scott Davis


Campagnolo Sport derailleur featured a single jockey pulley.



Catalog 12





Scan of a page from the catalog:




Catalog 13







The first Record crankset featured a lip around the pedal threads and chromed caps at the back of the pedal mounts.
Photos courtesy of Jan Johnson






Front side of the 1973 Super Record rear derailleur. Below, the back side. Note that the body is basically the same as the Nuovo Record; the silkscreened version appeared later.




Campagnolo- equipped sportsmen from the 1970s: Eddy Merckx (cycling), Clay Ragazzoni (Formula 1/Ferrari) and Walter Villa (motorcycle racing/Harley Davidson).


"No lip" front derailleur


Felice Gimondi and the Bianchi team in a Tour de France publicity pose. Note the World Champion and Italian Champion jerseys . . .


Campagnolo introduces the Portacatena, a unique chain-holding device. Click here for more info, including detailed instructions.

Click here for more photos of a Campy- equipped BMX bike

Photo above: Detail from a limited edition print handed out on November 20th. Below: One of a set of three plates given out by Sr. Campagnolo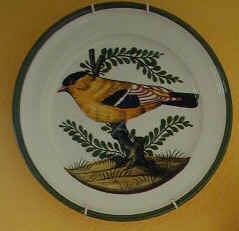 Photo above: Campagnolo's Vicenza factory, which opened in 1981 Click here for more photos of the factory


Campagnolo's promotional materials from the "classic" era included this posterboard sign, displayed at bike shops carrying Campy stuff.

Click here for a version sized for your computer's desktop (1024 pixels wide)

Super Record specs




Features on the ICS derailleur included an adjustment screw to change the angle of the derailleur, chrome plating, and Teflon on the inside of the cage.


Photo above: Delta prototypes produced in 1984. Click on the image for more photos and info.


Unidentified rider scales the Mont Ventoux in 1984 in this scan of a French postcard. Below, his drivetrain (all Campy, of course)




Above, the Victory gruppo. Below, Triomphe. These are the "Corsa" versions--"Leisure" gruppos were also available with wider gear ratios and long-cage derailleurs.




Victory-equipped Colnago owned by David Whitney


Cover of Campagnolo's "Record News" for Summer 1987, announcing the release of the Chorus gruppo


Sample of the 1987 catalog set, available here


High-res shot of last generation Delta brakes, upgraded with modern pads. Photo courtesy of Allan Tucker


Photo of The Giant and the File